Panel: Lack of rentals cause for concern
Conway Daily Sun
Daymond Steer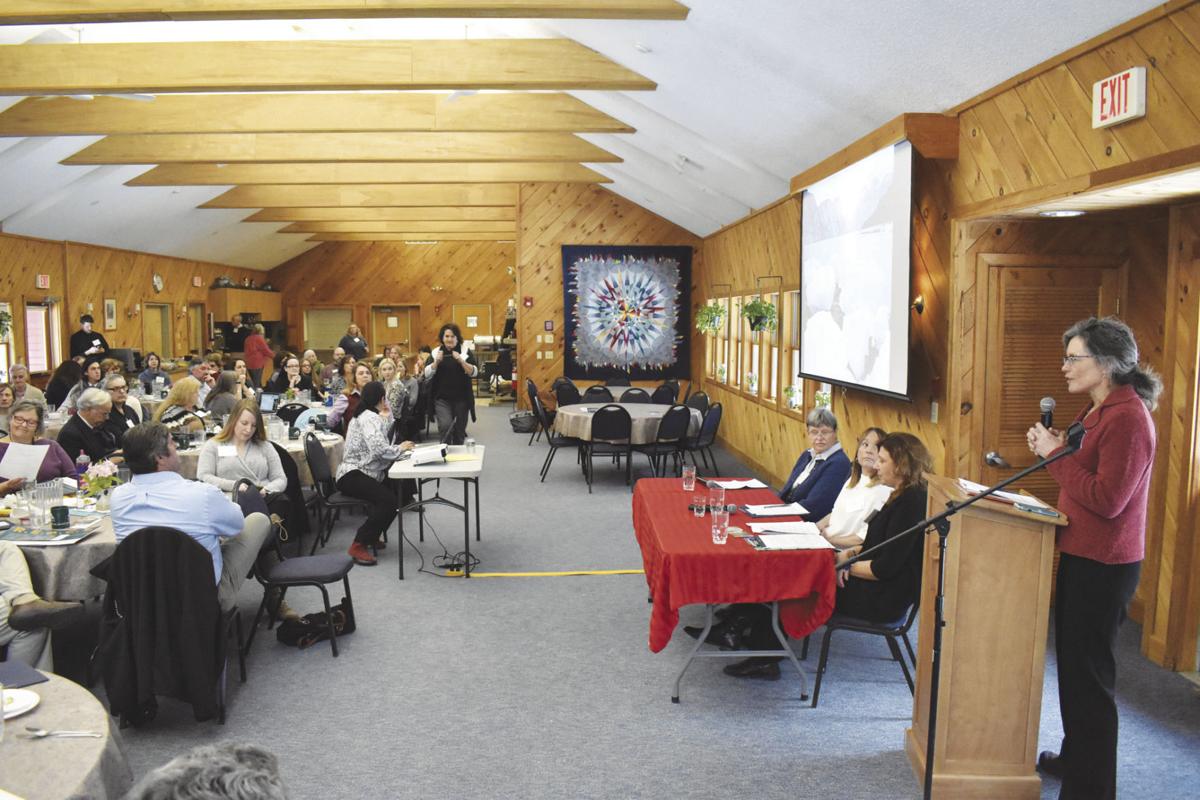 A panel discussion about affordable housing was attended by about 75 people Camp Calumet in Ossipee on Tuesday. Emily Benson of Carroll County Coalition for Public Health is seen at right. DAYMOND STEER PHOTO)
FREEDOM — More civic engagement at local and state level is needed to reverse the lack of affordable rental property in Carroll County, said Mount Washington Valley Housing Coalition Executive Director Victoria Laracy at a countywide panel discussion held Tuesday.
The panel discussion, "Housing Challenges in Carroll County," held at Camp Calumet in Freedom was part of the Carroll County Roundtable, one of four quarterly Public Health Advisory Council (PHAC) meetings convened by Carroll County Coalition for Public Health (C3PH), which is among the 13 regional public health networks located in New Hampshire.
PHAC is made up of key community leaders and works collaboratively to address the regional priorities identified in C3PH's Community Health Improvement Plan. Carroll County Coalition for Public Health is an initiative of Granite United Way.
About 75 people attended.
Besides Laracy, the other panelists were Kathy Barnard, chairman of the Eastern Lakes Region Housing Coalition, and Cathy Kuhn, Ph.D., the executive director of the New Hampshire Coalition to End Homelessness.
Emily Benson, C3PH PHAC coordinator, introduced the speakers and described the state of rental housing in Carroll County.
"The really scary thing is we are now at zero percent vacancy rate for two-bedroom units," said Benson. The recent "cold, cold temperatures we have been dealing with," Benson said, turns lack of housing into "a life-or-death issue."
Benson got her numbers from the New Hampshire Housing Finance Authority 2017 Rental Cost Survey. The authority says median gross rent in the county for a two-bedroom unit is $1,040, which would require an income of at least $41,600. Only 10 percent of rental units in the survey were below the affordable rent figure of $890 based on household median income of $35,602.
Benson said the number of homeless is underreported because surveys don't count people sleeping on friends' couches.
Laracy said the MWV Housing Coalition serves 13 towns in Northern Carroll County as well as Fryeburg and Brownfield in Maine.
She said rents have been going up but incomes have been flat. In addition, by 2030, over 50 percent of the population will be over 65 years old.
"We have no available rentals to bring in young families, or the millennials looking to come to the valley to work; there's none available," said Laracy.
"In 12 years, we really need to start looking at that because we are aging out and there is going to be no one here to take care of that aging population or to fill those jobs in our community."
She said that since 1988, New Hampshire has had an affordable housing fund that provides loans and grants to developers for affordable housing. Over the past few years, this fund helped finance the 32-unit Conway Pines workforce housing and 30-unit senior living apartments.
But another funding source, the Rural Development Grant, has been discontinued.
"So we really need more money put into the affordable housing fund in the state of New Hampshire to have available to developers to be able to have those tax credit projects," said Laracy. "In the past 20 years that the affordable housing fund has been in effect, we have done very poorly as a state. We have not invested in housing."
New Hampshire, according to Laracy, has contributed only about $10 million to the fund, while states such as Vermont have contributed much more. Vermont's governor, she said, recently agreed to a $35 million housing bond in the state budget.
"We really had to fight this past April to get $2.5 million for our legislators to invest in housing in New Hampshire," said Laracy. "That is where the community needs to step in and talk to our local representatives."
In a phone interview, Laracy said "recapitalization of this fund will help support new rental developments that will provide attractive incentives for employers to relocate to the Granite State and the Mount Washington Valley.
"The affordable housing fund was created in 1988 by the Legislature to provide market rate loans and grants to developers to build rental housing that is affordable to a range of incomes. By the statute, any project that receives assistance through the fund must dedicate at least half of its housing units to households at or below 80 percent of the area mean income."
During a question-and-answer session, Lance Zack of White Mountain Restorative Justice asked about short-term rentals' impact on northern Carroll County.
Laracy replied that in the past three years, the number of Airbnb rentals in the valley has jumped from about 400 to a total of about 1,000. She said second homes are being flipped to Airbnb rather than long-term rentals.
"It's possibly something municipalities can look at," said Laracy, adding that towns may be able to implement restrictions and incentives. "We are actively looking at that. I know Realtor groups in the valley are, as well."
Laracy said residents can help make their towns more welcoming to affordable housing by asking that master plans and zoning be changed. She said that a town's master plan drives its zoning.
"Talk to your planning boards and become engaged," said Laracy.
Benson said the conversation about housing will continue in Tamworth on Jan. 23 at a meeting called "Barriers and Opportunities for Housing in Carroll County." This meeting, which will take place Tri-County Community Action, 448 White Mountain Highway, starts at 9 a.m. and is open to the public.
For more information about the Carroll County Coalition for Public Health, go to c3ph.org?.